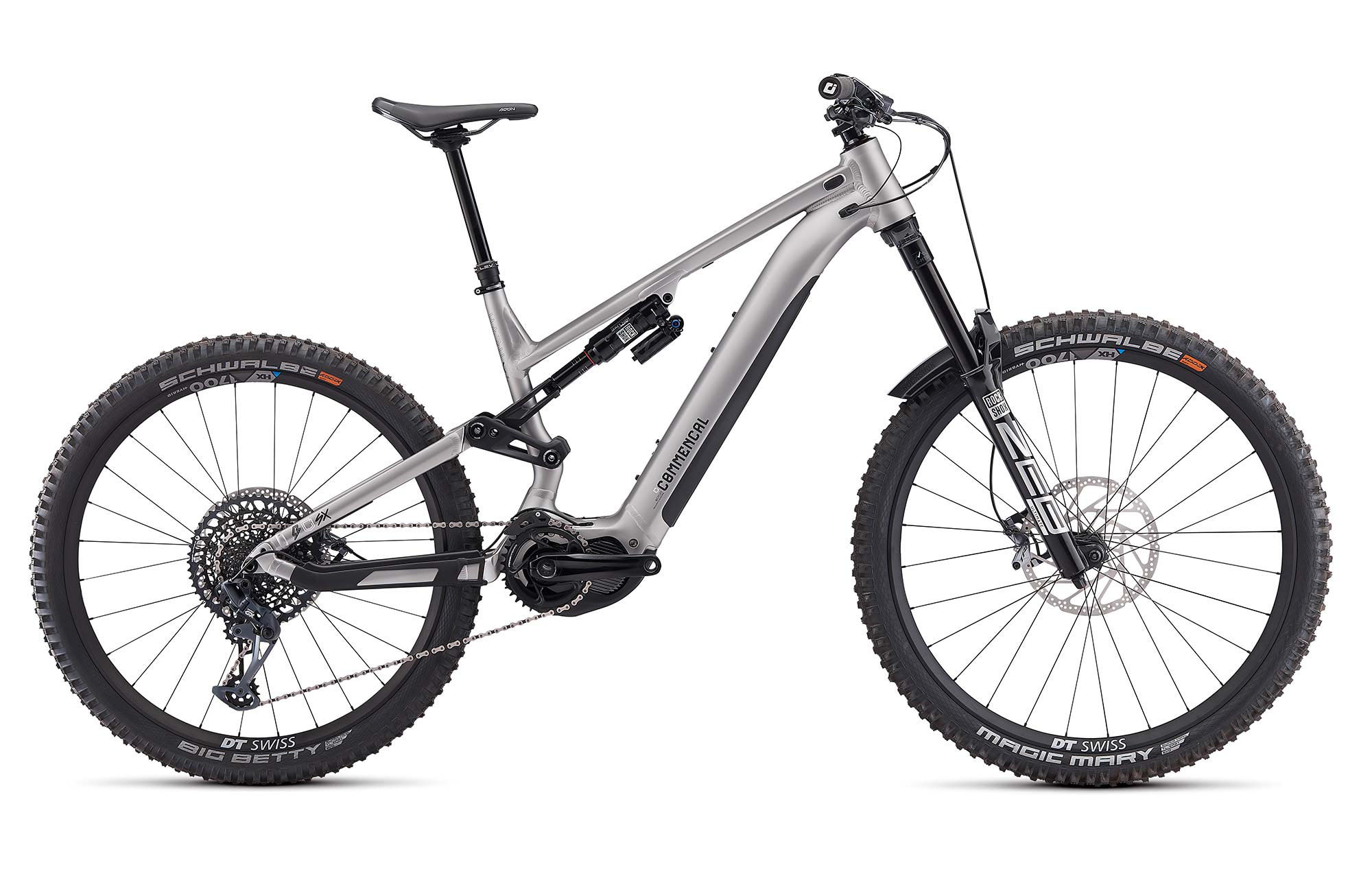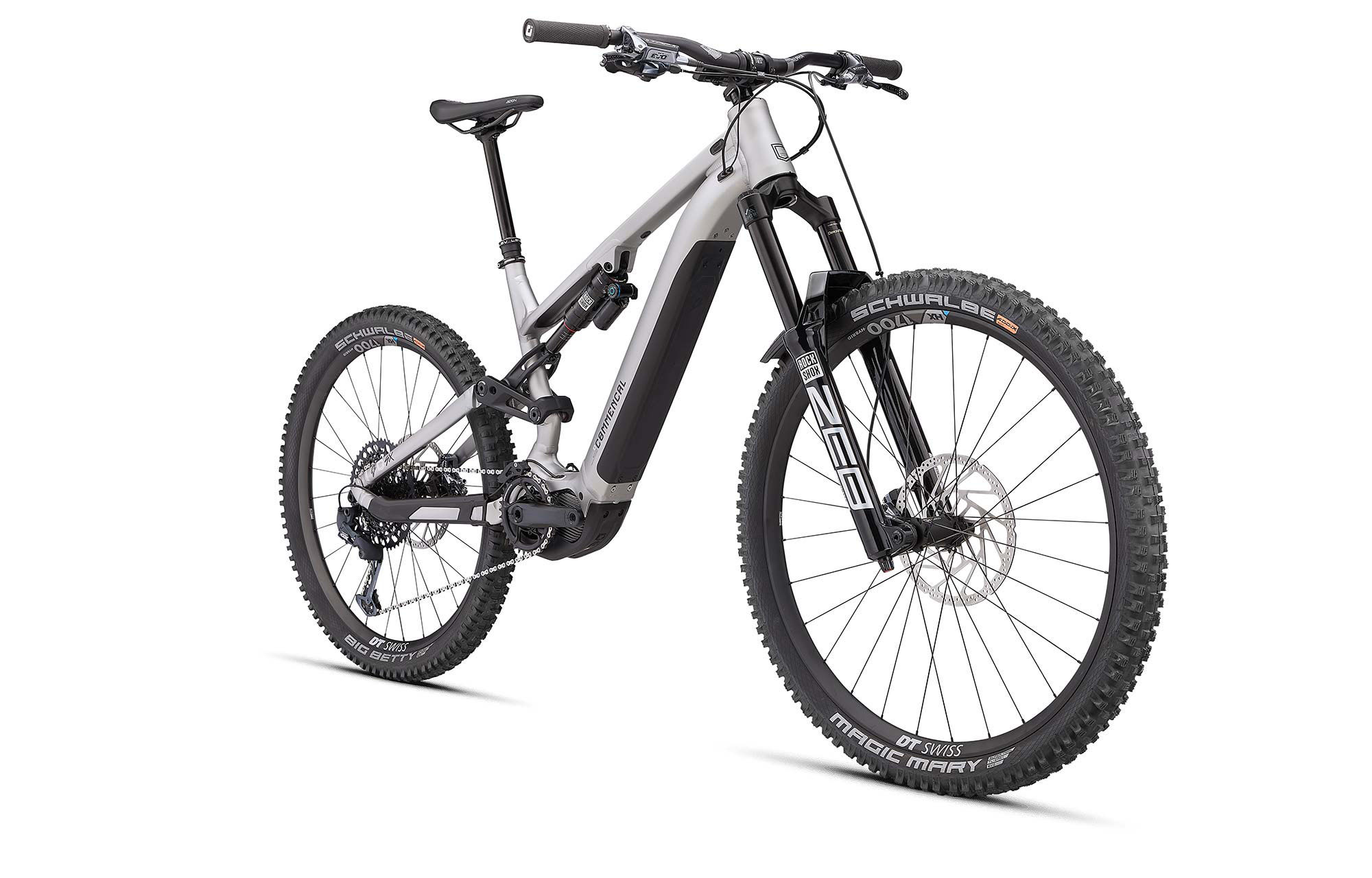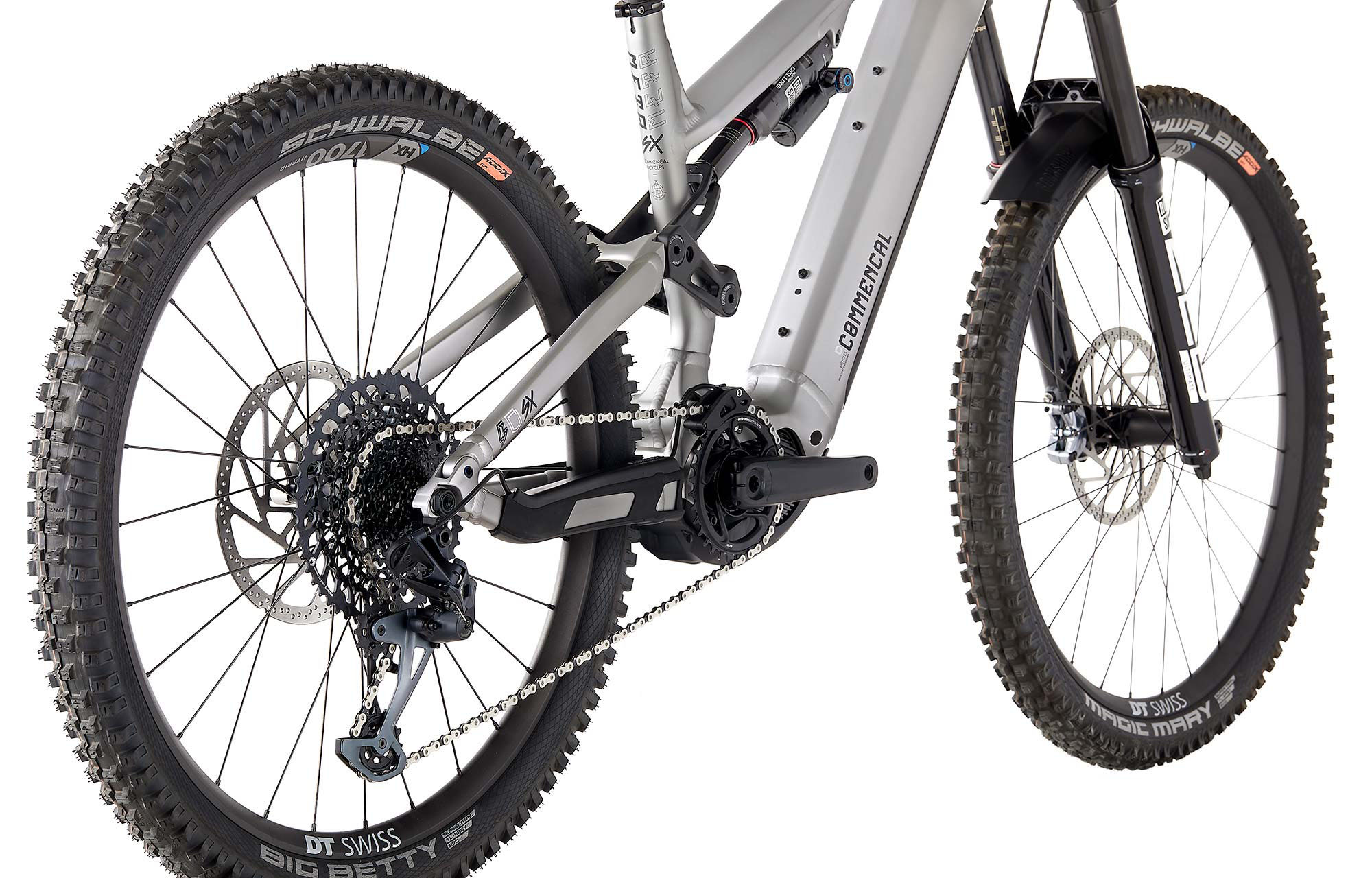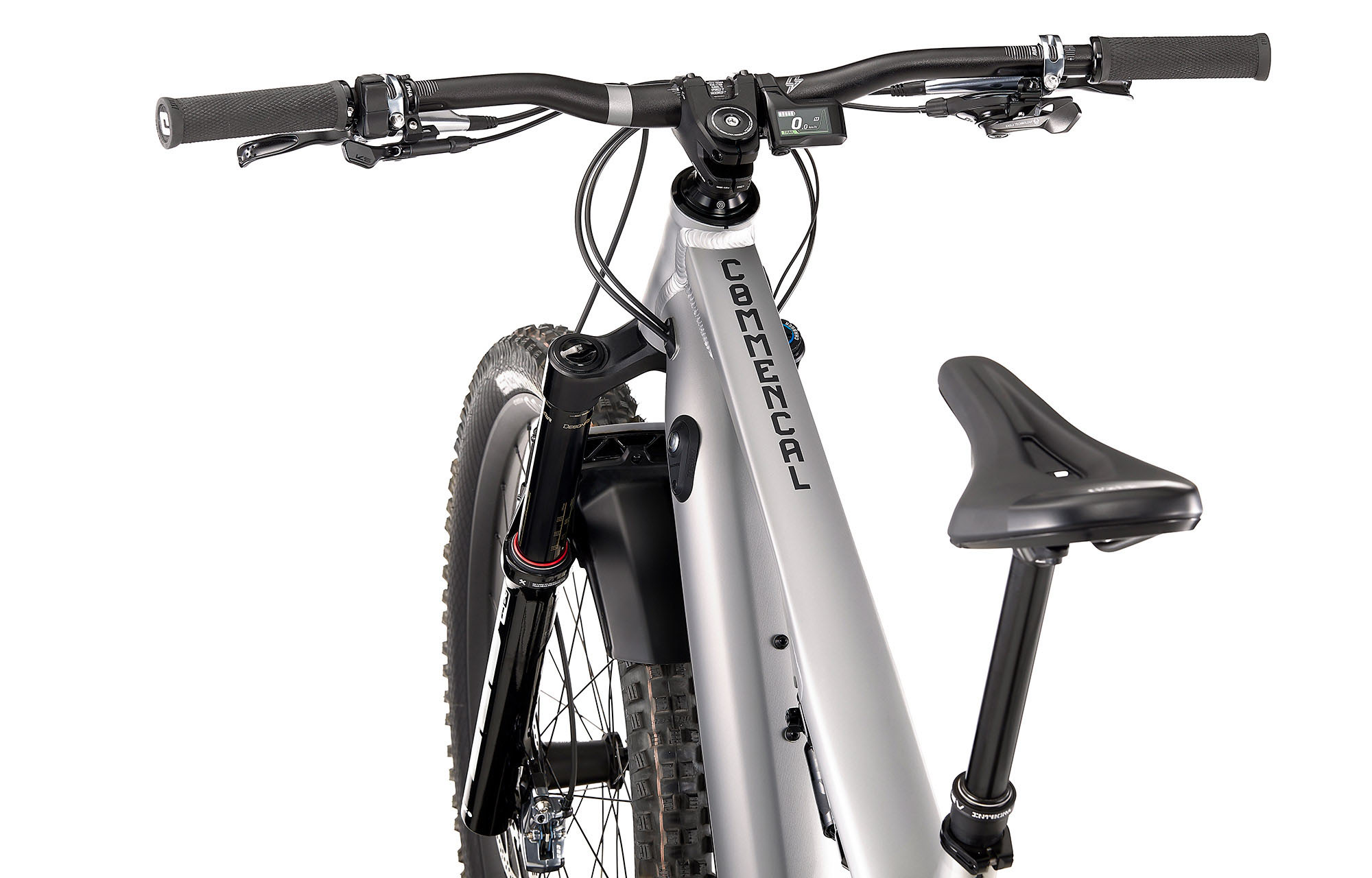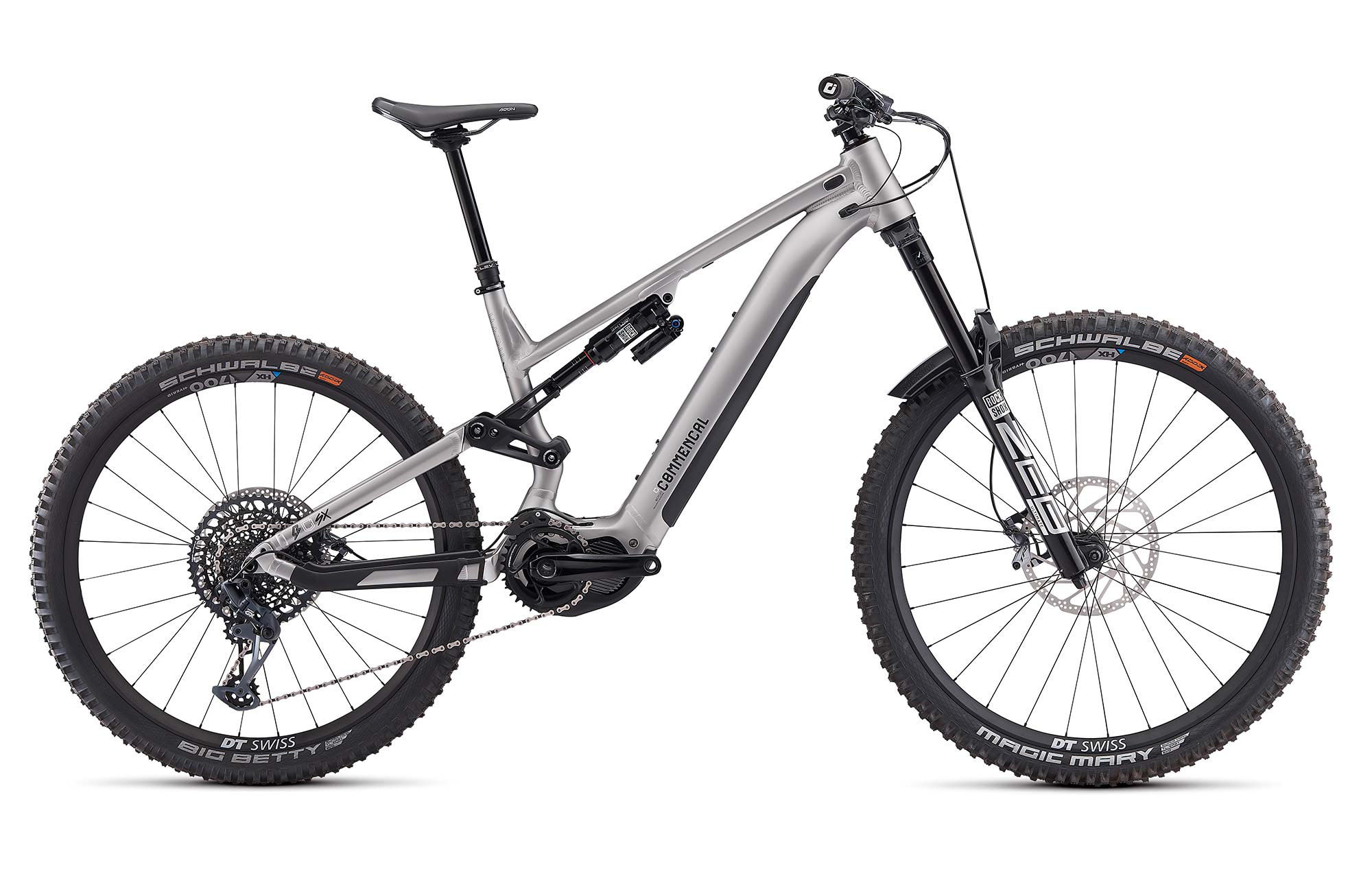 COMMENCAL META POWER SX SHIMANO RACE SILVER
Availability:
This Item is currently not available.
null
Start

DESCRIPTION

TECHNICAL INFO

SPECIFICATIONS

SIZES

GEOMETRY

Specs

Tech

Size Chart

Video
- DESCRIPTION -
Like the META SX, the META POWER SX is designed for performance and commitment, no matter how difficult the trails are that you encounter. An electric-enduro made to have fun, ride fast and keep going for miles and miles (with lots of smiles)!

For 2022, it looks a bit different now that it features different sized wheels, 29-inch on the front and 27.5 on the back. We are determined to continuously improve all our bikes. In order to continue to move more up-market, we use our previous platforms to determine specific points of improvement. After two years of loyal service, a redesign of the META POWER 29 and SX was called for. They are now one!

To do this, the geometry of the bike was completely reworked, and the kinematics too. It's thanks to this experience that we are now able to present the most successful version of our META POWER ever made, the META POWER SX! Equipping this META POWER SX with 29/27 wheels is not the result of a trend that we're following. It's because this way, the bike has much more balanced grip at the front and the back. The larger 29-inch wheel on the front gives more confidence and clearance whilst the 27.5-inch rear wheel offers more manoeuvrability and responsiveness. The result is a bike that is more agile and easier on steeper slopes and is more efficient under braking and livelier when pushing.

Once again, our choice to work with Aluminium has allowed us to accompany this change in wheel size with an adjustment of the geometry. A shorter reach, a straightened steerer angle and longer chain stays allow the rider to be repositioned in the centre of the bike, which in turn will provide more tolerance and precision.

One of the points that has changed the most is undoubtedly the way the suspension works. Apart from the kinematics which have been revised to provide more dynamism, we have made sure to grant the stiffness of the rear triangle to the overall dynamic of the bike. Through new double row Enduro Bearings, eliminating any deformation, the new META SX offers perfect deformation/rigidity management to provide grip, comfort and performance.

In addition to all this in-depth work, as on our META POWER TR, META TR and CLASH models, we now offer a "Flip Chip" on the shock extension in order to be able to better adjust the geometry, and therefore fit with your style! This system also means you can adapt the height of the bottom bracket as well as the steerer and saddle angles within seconds. Depending on your preferences, you can have the choice between a dynamic bike that's perfect for big pedalling trips, or a more progressive version which is ideal for days in the bike park or on more committed trails.

As an EMTB and Gravity brand, we know that it is essential to collaborate with recognised component specialists. Equipping the META POWER SX with the SHIMANO EP8 engine was therefore an obvious choice. Why?
- It has a high torque (85N.m) whilst power curves are optimised.
- The result is a softer bike for better grip control and more responsiveness to each pedal stroke.
- The 630Wh battery increases capacity tenfold, perfect for long days.
- A new engine mount, combined with a new-gen engine guard, improves the size and reduces the risk of impact with the ground.
Finally, we have worked on a detail that makes the difference, the finished look.

The welds have been the subject of meticulous work to reduce them as much as possible without affecting the solidity of the frame. The cable routing is neat for easier maintenance, the cables being easily accessible in the down tube, while grommets are placed at the ends to give perfect support and prevent penetration of water and mud. Installing a bottle cage has also been made easy.

META POWER SX RACE

A top-of-the-range model, this META POWER SX RACE comes in a striking matte Silver and features the best ROCKSHOX suspension currently available for enduro:
- The ZEB Ultimate fork with 38mm diameter stanchions offers precise and varied adjustments thanks to the Debonair air spring.
- The Super Deluxe Ultimate shock provides maximum grip and performance on the most demanding trails.

The rest of the components are carefully selected to match the META POWER program:
- The TRP DH-R Evo 4-piston brakes with 220mm rotors provide powerful braking in all conditions.
- The SRAM GX Eagle 12-speed drivetrain features a large 10-52t gearset. An example of reliability and precision that makes it possible to approach each climb with confidence.
- DT SWISS HX1700 Spline EMTB-specific wheels are excellent thanks to their weight / dynamism / reliability ratio.
- The SHIMANO EP8 engine and 630WH battery means you can just go and keep going.

Stand out with this exceptional build.

*Please note that bike specs are subject to change without prior notice.
- TECHNICAL INFO -
Bicycle type

E-BIKE ENDURO 29''/27''

Frame material

AL-6061 + AL-6066

Frame weight

4,1 kg / 9.03 lb - With plastic accessories.

Rear travel

165 mm

Shock length/stroke

230 x 65 mm

Piggy back shock compatible

Yes

Shock bushings

20 x 10 mm front

Recommended/max. fork height

583 mm / 593 mm

Headset dimension

Tapered

Headset type

ZS56 / ZS66

Maximum tyre dimension (etrto)

65 - 584 mm

Disc brake standard

PM160

Rear rotor max. size

220 mm

Seatpost/seat clamp diameter

31,6 mm / 34,9 mm

Bottom bracket type

SHIMANO E-BIKE

ISCG

Yes (SHIMANO Standard)

Rear hub compatibility

12 x 148 mm
- SPECIFICATIONS -
Frame

2022 META POWER, 165 mm travel

29'-27.5''', Alloy 6066, triple butted tubes, T4, T6. Enduro bearings

System

SHIMANO DU-EP800

Max. torque: 85N.m, 250W

Battery

SHIMANO BT-E8036

630Wh

Display

SHIMANO SC-EM800

LCD colored display featuring:

Clock, Assist mode display, Battery charge level, Current Speed, Maximum speed, Average speed, Trip distance, Trip time, Estimated range, Range overview, Cadence, Human output power (as scale indicator), Calorie setting, Maintenance alert, Bluetooth LE connection (for E-Tube Project communication)

Shock

ROCKSHOX Super Deluxe Ultimate

230 x 65 mm, LSC, rebound, 2-position adjustment, 3 tokens

Fork

ROCKSHOX Zeb Ultimate, 170 mm travel

29", Charger 2.1 damper, Debonair, LSC, HSC, rebound, Boost (15 x 110 mm), 44 mm offset, oversized crown, 1 Token

Headset

ACROS ZS56 / ZS66

Alloy cups, sealed bearings

Stem

RIDE ALPHA Freeride 40

40 mm extension, 31,8 mm

Handlebar

RIDE ALPHA R20 POWER on S - RIDE ALPHA R27 POWER on M / L / XL

Internal Di2 cable routing - 31.8 mm, 760 mm width, 20 mm rise, Alloy 6061 on S - 31.8 mm, 780 mm width, 27 mm rise, Alloy 6061 on M / L - 31.8 mm, 800 mm width, 27 mm rise, Alloy 6061 on XL

Grips

ODI Elite Motion

Soft pro compound, single clamp, black

Brakes

TRP DH-R Evo

4 pistons

Shifters

SRAM GX Eagle

12s, Single Click

Chain guide

RIDE ALPHA EP8

32-34t

Rear mech

SRAM GX Eagle

12s

Bottom bracket

SHIMANO

Crankset

SHIMANO FC-EM900, 160 mm crank arms
34t, Narrow-Wide, direct mount

Chain

SRAM GX Eagle

12s

Cassette

SRAM GX Eagle

12s, 10-52t

Rims

Rear: DT SWISS H1900 Spline - Front: DT SWISS H1900 Spline

Rear: 27.5'', 28h, sleeved, 30 mm inner width - Front: 29'', 28h, sleeved, 30 mm inner width

Hubs

Rear: DT SWISS 350 - Front: DT SWISS 350

Rear: 28h, sealed bearings, 24t, e-bike specific - Front: 28h, sealed bearings

Spokes/nipples

DT SWISS Hybrid 1

Straightpull, 2.34/2.0mm, double butted, stainless, with Nylok, black

Tyres

Rear: SCHWALBE Big Betty - Front: SCHWALBE Magic Mary

Rear: 27.5"x2.4", Super Trail, Addix Soft, Tubeless Easy - Front: 29"x2.4", Super Trail, Addix Soft, Tubeless Easy

Seat post

KS Lev Integra

31.6 mm, travel: 125 mm on S, 175 mm on M/L & 200 mm on XL, SouthPaw alloy remote

Saddle

FIZIK Terra Aidon X3

Kium Mobius rails

Weight

24,8 kg / 54.67 lb

Average weight for S size, without pedals. Weight may differ slightly due to manufacturing tolerances.

Pedals included

Yes

Colour

Silver

Matte Finish

Accessories

RIDE ALPHA CNC pedals, motor protector, chainstay protector, seatstay protector, user manual, Mudguard

META POWER bikes are delivered with Shimano Europlug (CEE 7/7 norm) battery charger, a plug adapter is necessary for customers living in countries using different standards.

Battery recycling

Partnership with SHIMANO

In partnership with SHIMANO, COMMENCAL supports a voluntary battery recycling program for ebike batteries. For each META POWER sold COMMENCAL will contribute 7EUR to fundraising organisation COREPILE. This sum is paid through SHIMANO France. When your battery reaches the end of its life, it would be great if you could send it back to us for recycling. Contact us for more info on the procedure.
- GEOMETRY -