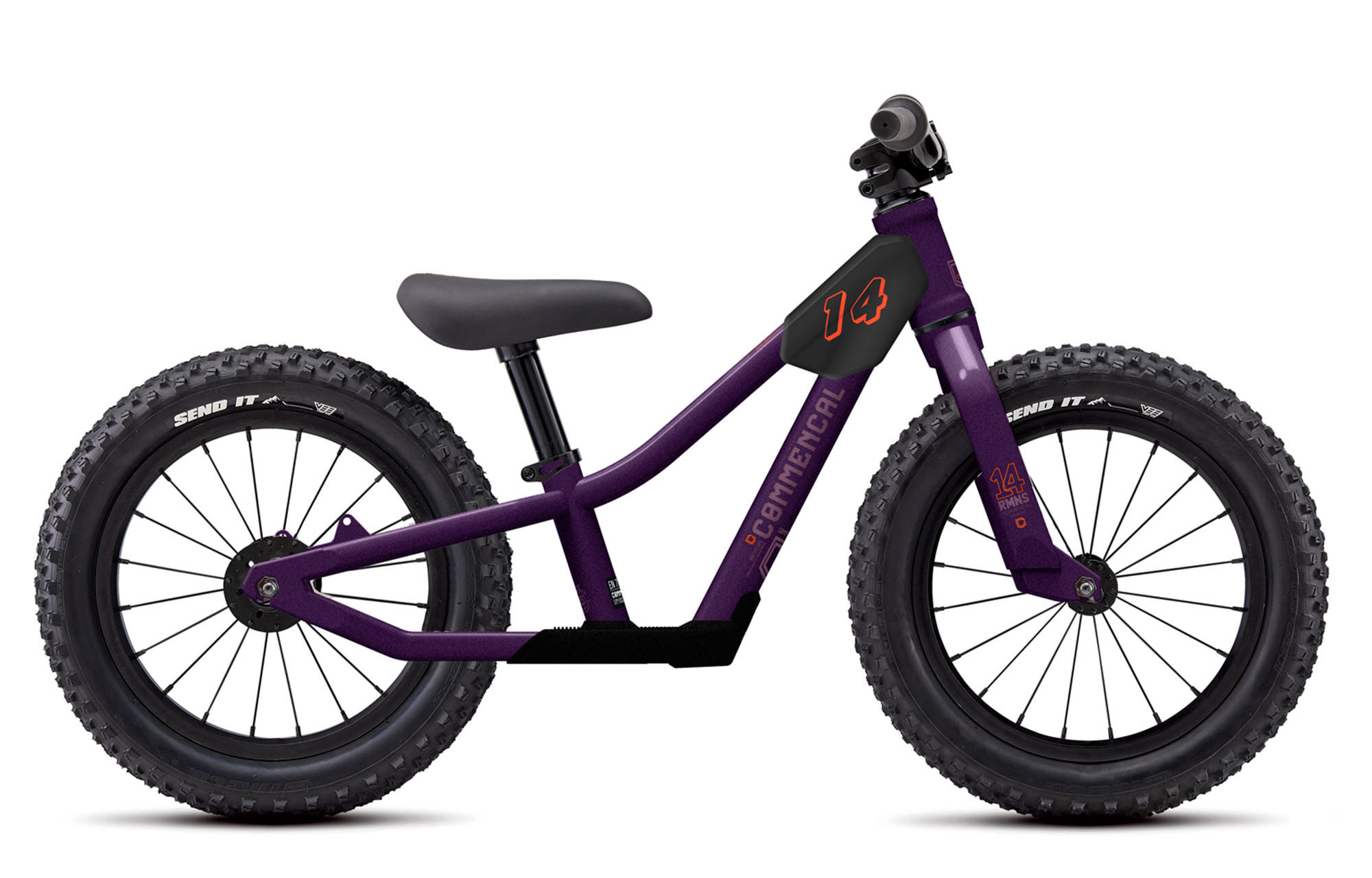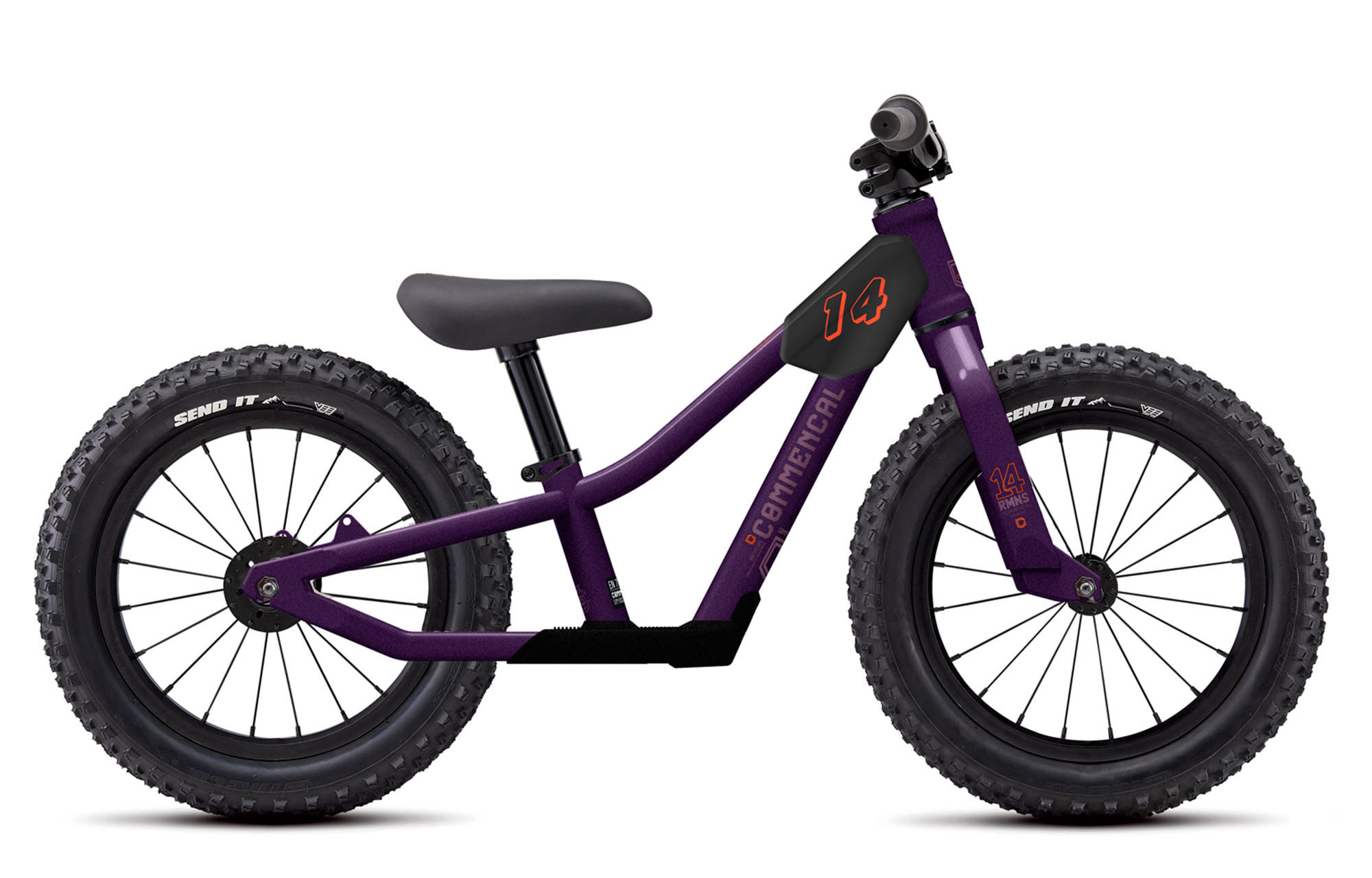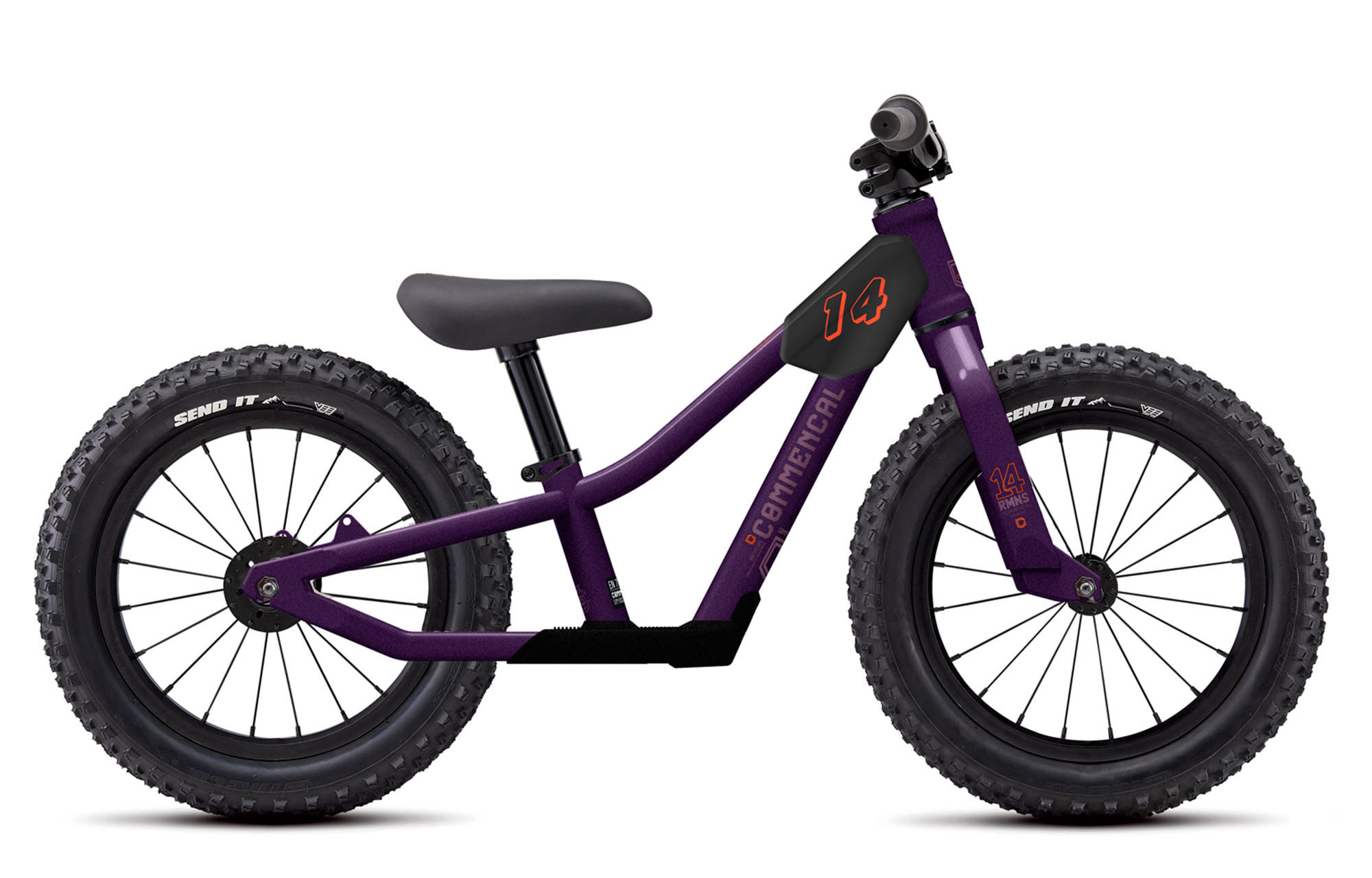 COMMENCAL RAMONES 14 PUSH BIKE PURPLE
Availability:
This Item is currently not available.
null
Start

DESCRIPTION

TECHNICAL INFO

SPECIFICATIONS

SIZES

GEOMETRY

Specs

Tech

Size Chart

Video
- DESCRIPTION -
The image of this model is not a photo but in fact a 3D representation. The studio photos with the specs listed below will be available very shortly.

They remember their first bike forever! So here are some key points to help you choose the model that is best for your child.

For the smallest (under 95cm) we always recommend opting for a balance bike.
For slightly older/taller kids (over 110cm) we normally recommend a pedal bike.
However, for those who measure between 95cm and 110cm, both options are a possibility.

The balance bike allows kids to learn to balance on two wheels. It clearly gives confidence to the child; they feel safe and can progress at their own pace.

The pedal bike has other advantages. It makes the child feel 'like a grown-up' and enables longer rides once they've got the hang of it. The stabilizers bring confidence to try.

We have two wheel sizes available - 12-inch (for a child measuring between 90cm and 105cm) or 14-inch (between 95cm and 110cm).

All our balance bikes are designed to evolve alongside the child.

First and foremost, thanks to the brand-new plastic-protected foot platform with integrated grip, the child will feel comfortable and confident without their feet on the floor. It has been specifically designed to leave room for their calves during pushing, all the while leaving necessary space for the feet when they put them up. It's also evolutionary as it's possible to mount a disc brake on the back, useful for when things get serious!

They might as well learn the right reflexes and rules from the start. . .

As for the components, they are all carefully selected according to three criteria; more reliability, ergonomics for small children and our global strategy to provide high-end parts for all. Therefore, there are 3 different key points:
- Grips have an internal diameter of 19 mm. Grips must be appropriate for the body shape of the child so that they feel comfortable holding the handlebars properly
- Frames feature new extruded tubes instead of the classic round tubes for a completely revised look and significant weight saving.
- Knobbly tyres that are like those used by the adults. The gain in comfort, grip and safety is undeniable.
- A brand new plastic 'race plate' located on the top tube that means the child can stick their favourite number on it using a sheet of stickers supplied with the bike, like a real mini-racer.
- TECHNICAL INFO -
Bicycle type

KIDS MTB 14, PUSH BIKE

Frame material

Al 6061 T6

Recommended/max. fork height

225 mm - 240 mm

Headset dimension

1-1/8

Headset type

ZS44 ZS44

Maximum tyre dimension (etrto)

60 mm

Disc brake standard

IS

Rear rotor max. size

160 mm

Seatpost/seat clamp diameter

27,2 mm - 31,8 mm

Rear hub compatibility

104 mm x 3/8"
- SPECIFICATIONS -
Frame

2022 RMNS 14 Push-Bike

Alloy 6061, extra-wide rubber platform, disc brake ready

Fork

2022 RMNS 14

14", alloy 6061

Headset

NECO H-148

Semi-integrated

Stem

COMMENCAL Alloy, 30 mm

30 mm extension, 25,4 mm

Handlebar

RIDE ALPHA Kids

25.4 mm, 460 mm width, 25 mm rise, tapered (for 19 mm grips), Alloy 6061

Grips

COMMENCAL Kids

19 mm grips (ID), kids hands specific

Rims

COMMENCAL 14''

20h, Alloy 6063

Hubs

Rear: COMMENCAL - Front: COMMENCAL

Rear: 20h, loose balls - Front: 20h, loose balls, disc ready

Spokes/nipples

2.0 mm

ED black

Tyres

Rear: VEE TIRE CO. CrownGem - Front: VEE TIRE CO. CrownGem

Rear: 14''x2.25'', MPC Compound, Custom "Send It" patch - Front: 14''x2.25'', MPC Compound, Custom "Send It" patch

Seat post

COMMENCAL

27,2 mm, integrated saddle, Alloy

Saddle

COMMENCAL Kids

Soft padding, integrated handle

Weight

kg / lb

Without pedals. Weight may differ slightly due to manufacturing tolerances.

Pedals included

No

Colour

Metallic Purple

Matte Finish

Accessories

Bell, number plate, footrest protector
- GEOMETRY -